A Track Record of Success
For those who didn't notice, X-Chem underwent a major rebranding in mid-2021. We rolled out our new website, logo, color scheme and graphics, and we generated new content to better tell our story. Of all the elements we've put into the new website, the one I'm most proud of is the X-Chem Track Record page.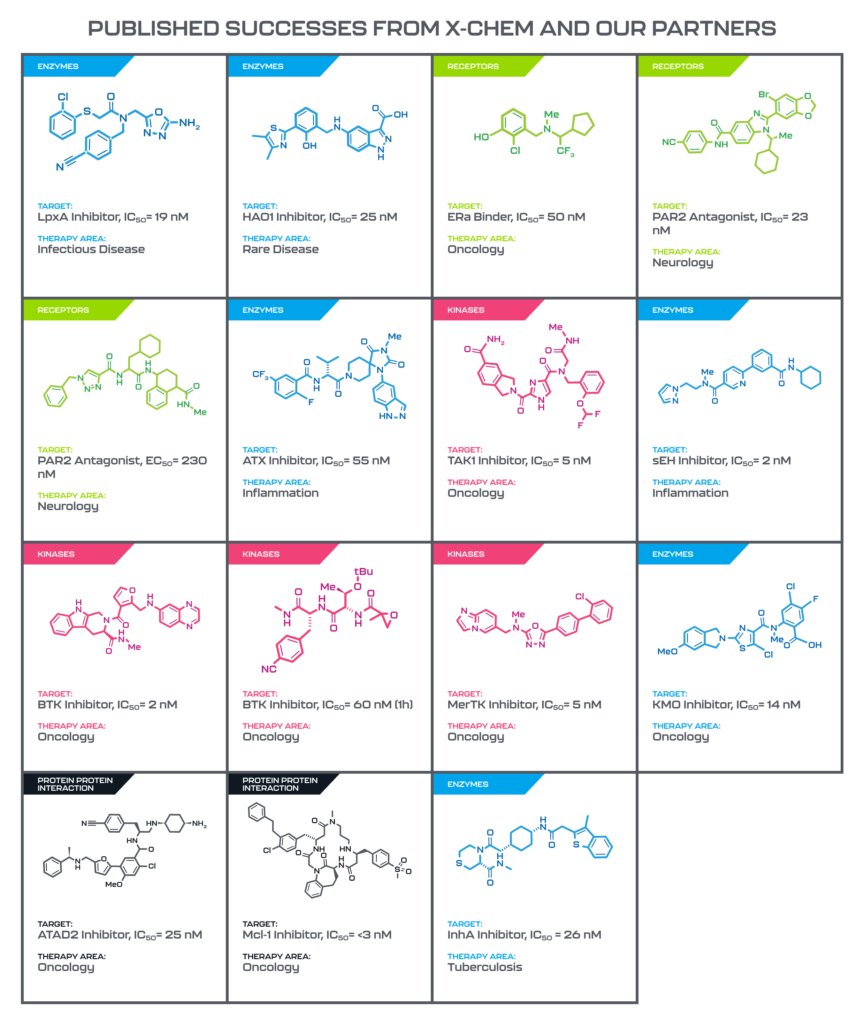 A History of Discovery
The X-Chem Track Record displays the chemical structure of all the DEL outputs that we have ever published. The potencies, targets and physicochemical properties are also displayed, as well as links to the journal articles. Some of the Track Record references describe technology development efforts toward novel encoding or selection strategies, but the majority represent real drug discovery programs. Most were conducted in collaboration with our partners, but a handful represent the outcome of our past internal discovery efforts, which were ceased when we decided to focus on being a service provider. The Track Record really tells the story of where we've been and where we're going:
The oldest report is regarding the discovery of InhA inhibitors. InhA is an anti-tuberculosis target and was one of the first projects we worked on with AstraZeneca. The screen was quite productive, as evidenced by the diversity of hits described in the paper. But looking back on it, the chemical structures definitely reflected "1st generation" DELs: lots of amide bonds and high MWs.
Another early paper, also written with AZ, described the discovery of non-natural peptide inhibitors of Mcl-1. The target is a protein-protein interaction implicated in cancer. The AZ team did a tremendous job converting our modestly potent, highly flexible peptidomimetics into potent, cell-active macrocycles. This report speaks to one of the underappreciated aspects of X-Chem's DEL platform: We are really good at making non-natural peptides. Our collection of hundreds of amino acid building blocks dwarfs the repertoire of the natural 20. We try to focus on lead-like libraries to support our partners' appetite for orally-dosed therapeutics. But our peptide and peptidomimetic libraries can be a valuable resource for programs where alternative dosing modalities are the goal.
Another notable entry is our report of degraders of the estrogen receptor ERα. This paper does a great job of demonstrating the power of DEL when applied to the discovery of bispecific degraders. DEL screening against a number of ERα mutants led to the discovery of pan-specific binders, with excellent physicochemical properties. We used the X-Chem E3 toolkit, and our knowledge of the library linker position, to quickly generate an array of candidate degraders with different E3 engagers and linker lengths. We observed that VHL was the optimal E3 and measured DC50 values less than 10 nM.
Formulating the Future
X-Chem has always been a pioneer in developing new techniques in DEL screening. Our report on covalent BTK inhibitors illustrates our development of irreversible selection as a powerful approach to covalent inhibitor discovery. One of the fascinating aspects of this project was observing the structural relatedness of the covalent inhibitors with our previously discovered reversible inhibitors. It turned out that the covalent inhibitors switched out the hinge binder for the electrophile, which made perfect sense when confirmed by crystallography.
When it comes to library design, for several years X-Chem has been emphasizing the importance of atom economy and lead-likeness in DELs. This emphasis has paid off for us in terms of a marked increase in success and licensing rates over the past several years. Unfortunately, these outcomes have not yet been published since many successful programs remain active. Our friends at AstraZeneca, however, recently published an overview of their lead generation approaches to Mer kinase. In this report, which does a great job of describing an integrated lead gen strategy that spans several modalities including DEL, they also disclose DEL hits that exemplify our atom-efficient library schemes. The inhibitor 14 has a structure which contains only five non-building block atoms! While the lipophilicity is relatively high due to a biaryl BB, the researchers show scope for improvement in that area while maintaining potency. It is incredibly satisfying as a chemist to see an idea turn into a scheme, then into a library and then into active compounds. Hats off to the X-Chem library and AZ Mer teams for a fantastic result.
Chronicling Accomplishments
There are a number of other interesting reports in the Track Record, including collaborations with Bayer, Astellas, AZ and Heptares. Additionally, internal discovery efforts toward HAO1 are described, along with technology development of new encoding methods. I would encourage anyone who is curious about the scope and potential of X-Chem's DEL platform to peruse our Track Record. At X-Chem, we believe that the best way folks can get a sense of what to expect from us is to see what we've done in the past. We believe that our Track Record leads the DEL field, and we know it will only grow as we add new capabilities and innovations, like AI, to our services.
Blog
X-Chem's primary mission has always been to leverage the world's leading drug discovery platform to help create molecules that will...
Blog
DNA-encoded library (DEL) selections typically use affinity pulldown to enrich compounds that bind targets of interest. While it is highly...