X-Chem's versatile technology is proven in projects spanning numerous target classes. These include challenging categories such as protein-protein interactions (PPI), bacterial targets, ubiquitin ligases, epigenetic targets and G protein-coupled receptors (GPCR).
Screen Hundreds of Billions of Compounds Against Your Drug Discovery Target
Forms of the DNA-encoded library (DEL) technology that we pioneered are now used around the world as an important method of small molecule discovery. Biotech and pharma companies engaged in lead discovery have quickly recognized the exponential advantages of being able to screen billions of compounds with astonishing speed and efficiency, compared with industry-standard, high-throughput screening processes.
HOW DEL-DRIVEN DRUG DISCOVERY WORKS:
Combinational Chemistry, DNA Tagging and High Affinity-Based Screening
| | |
| --- | --- |
| 1 | The X-Chem drug discovery engine is based on a compound library generated by iterative combinatorial synthesis. In the DEL process, each molecule in the library is tethered to a distinct DNA tag or "bar code" that records its synthetic history. |
| | |
| --- | --- |
| 2 | Billions of small molecules are screened as a mixture in a single vessel against a target of interest. Conducting multiple screening experiments in parallel provides informative and actionable output. |
| | |
| --- | --- |
| 3 | DNA amplification and sequencing methods are then used to identify the molecules that have an affinity for your target. |
| | |
| --- | --- |
| 4 | Proprietary bioinformatics tools allow the translation of DNA sequence data into chemical structure, and the analysis of the enrichment and structural characteristics of the resulting ligands. |
| | |
| --- | --- |
| 5 | Based on the synthetic history encoded in the DNA sequence information, promising molecules are then synthesized without the DNA tag attached. |
| | |
| --- | --- |
| 6 | These de-tagged hits are then retested in biological assays to confirm that they exhibit the desired activity. The structure-activity relationships observed in the screening help accelerate hit-to-lead medicinal chemistry. |
Whether you are a DEL practitioner or an investigator looking for equity against a novel target, we will help you leverage our platform, technology and expertise in the best way possible.
X-CHEM
Therapeutic Areas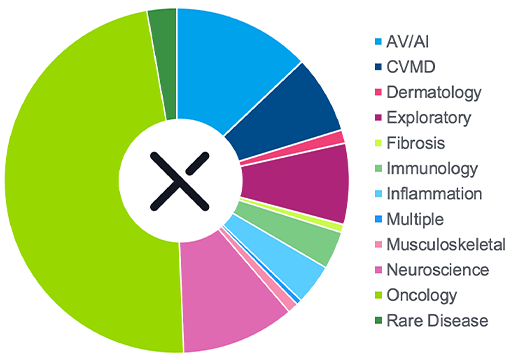 X-CHEM
Licensed Programs By Target Class
X-CHEM
Licensed Programs Over Time
Proprietary innovations underlie the exceptional performance of the X-Chem platform
A Superior Approach to Library Design
Our libraries are maximally diverse and designed to generate hit compounds that jump-start medicinal chemistry.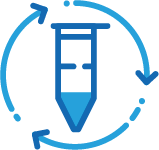 World Class Selection Expertise
We have developed a myriad of strategies for screening targets under the right conditions to discover hits with the desired mechanisms.
Unique Informatics Tools
Our tools indicate clear direction for pursuing novel compound series with desired selectivity, binding site, and mechanism of action.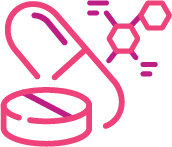 Medicinal Chemistry Capabilities
The output is easily integrated into discovery programs; our medicinal chemistry experts can help you translate high-quality hits into clinical candidates.
Industrial-Scale Capabilities
We process dozens of screening campaigns each year.
Our platform, libraries and screening strategies are designed to generate compound classes that can address any target and modality:
Lead-Like Compounds
Drug-Like Compounds
Macrocycles
Peptides
Covalent Inhibitors
Protein Degraders
Allosteric Inhibitors
Our robust process has been highly successful against targets considered difficult or even intractable, such as:
Protein-Protein Interactions
Ubiquitin Ligases
Epigenetic Targets
G Protein-Coupled Receptors
Bacterial Enzymes
We will help you leverage our platform, technology and expertise in the best way possible.