What a Year! X‑Chem 2021 in Review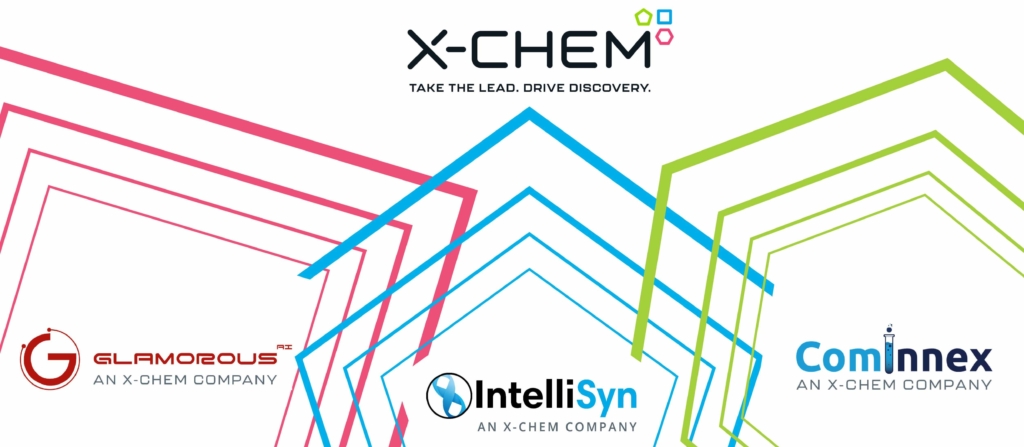 The month of December is often a time to take stock and assess the accomplishments of the past year. As I look back on the year that was 2021 at X-Chem, I am amazed at what the team has achieved. We are literally a different company than we were at this time last year. Our focus has sharpened, our capabilities have expanded and our corporate family has grown. We even have a new color scheme! None of these achievements would have been possible without the hard work and dedication of the X-Chem staff, guided by our Mission and Values. Also, our network of partners in marketing, finance and strategy has been a huge help in reaching our 2021 goals.
The New X-Chem
In May of this year, X-Chem rolled out its new brand. Our partners at SCORR Marketing helped us design a color scheme, logo and visual language that better convey what X-Chem wants to be. Our tagline is "Take the Lead, Drive Discovery." This illustrates that our goal is to enable our partners to drive their drug discovery efforts more quickly and effectively by utilizing X-Chem's cutting-edge capabilities. The colors and visual themes are warm and welcoming, matching our culture of engagement and collaboration with our partners.
In conjunction with our re-branding, we overhauled our website. Our website is now much richer in content. Between the blog, the case studies and the service solution overviews, we have designed x-chemrx.com to be a useful resource for the DEL partnering community. The "Track Record" page is a running list of all the hit structures that X-Chem and its partners have published. It provides a great overview of what our partners can expect from a DEL screen with X-Chem.
Medicinal Chemistry Is a Core Capability at X-Chem
Late in 2020, I had the pleasure of getting to know CEO Jeff Albert and his team at the Montreal-based medicinal chemistry service provider, Intellisyn. The Intellisyn team has a strong track record of success in synthetic and medicinal chemistry. Their culture of excellence and execution was very similar to X-Chem's, and so uniting the companies was an attractive proposition. Happily, in January of this year, we were able to announce the acquisition of Intellisyn and their integration into the X-Chem fold. Despite the challenges of COVID-induced travel restrictions, we have built a strong joint culture across Waltham and Montreal.
The combination of Intellisyn with X-Chem expands the scope of how X-Chem can engage with partners. The Montreal team knows how to progress screening hits into lead- and candidate-quality equity. Partners interested in DEL screening now have the option to seamlessly transition their DEL outputs into expert hit-to-lead and lead optimization processing, all enabled by intimate knowledge of the DEL output and its accompanying SAR. The Montreal team also remains dedicated to supporting partners in synthetic and medicinal chemistry service, regardless of the source of the starting points.
Chemical Technologies and DEL Services: The ComInnex Story
The Budapest, Hungary, area has a strong reputation of innovation in synthetic chemistry, dating back to the days of Arpad Furka's invention of split-and-pool, and the founding of Comgenex, later AMRI Budapest. One of the successors of that strong legacy is the chemical services provider ComInnex. The team at ComInnex is focused on chemical innovation, whether it be DEL reagents, high throughput parallel synthesis, flow chemistry or photochemistry. When the opportunity arose to bring ComInnex into the X-Chem fold, we leapt at the chance.
ComInnex provides X-Chem with the resources to expand our DEL services. While custom libraries and DEL provision have always been part of X-Chem's offering, the ComInnex acquisition brings our capabilities in this area to a new level. The team in Budapest has an extensive collection of novel building blocks, scaffolds and technology-enabled synthesis schemes. We are excited to unite their rich chemical heritage with our DEL synthesis expertise to create a truly compelling DEL enablement offering for our partners. Similar to Montreal, the Budapest team has a strong culture of integrity and innovation; they will form an integral part of the X-Chem family going forward.
DEL-Powered AI Will Accelerate Drug Discovery
In the autumn of 2020, I was privileged to get to know CEO Prof. Noor Shaker and CTO Mo AbouZleikha of GlamorousAI. After a distinguished career in artificial intelligence research, Noor was ready to apply her expertise and ingenuity to drug discovery. After a preliminary joint project that confirmed the utility of the GlamorousAI technology, we agreed to bring GlamorousAI into the X-Chem fold. We both agreed that combining the data-producing ability of X-Chem's DEL platform with the power of GlamorousAI's innovative AI platform, Rosalind [now ArtemisAI], would create a game changer for early phase drug discovery.
The integration of GlamorousAI gives X-Chem a number of world-leading capabilities. First, it allows us to offer DEL-driven AI model generation as a service. As demonstrated in our 2020 publication, DEL data can be used to create an AI model for predicting binders to a protein target. This allows our partners to access even more hits, creating more shots on goal for finding equity with a glide path to candidate quality. Additionally, GlamorousAI's existing models for physicochemical and ADME property prediction can be coupled to the binding models, which will allow the medicinal chemists in Montreal or elsewhere to focus on compounds with the best properties across several key parameters. We believe that AI-enabled medicinal chemistry, powered by real-world binding and property data, could accelerate and revolutionize the discovery of new drugs.
Well-Positioned for 2022
2021 was a pivotal year for us at X-Chem. We laid the foundations for what we aspire to be: the leading provider of the most innovative solutions in early-stage drug discovery. By integrating DEL screening, medicinal chemistry, chemical innovation and artificial intelligence capabilities, our goal is to execute our Mission and help our partners Take the Lead by Driving Discovery.
Blog
X-Chem's primary mission has always been to leverage the world's leading drug discovery platform to help create molecules that will...
Blog
DNA-encoded library (DEL) selections typically use affinity pulldown to enrich compounds that bind targets of interest. While it is highly...