X-Chem Is Driving Protein Degradation Discovery
Targeted protein degradation (TPD) leverages the ubiquitin-proteosome system to induce degradation of specific proteins of interest (POIs). Bifunctional molecules with two linker-connected moieties draw ligase enzymes into close proximity to target proteins, allowing them to be labeled with a ubiquitin tag and marked for degradation. The TPD modality has opened new avenues for drug development aimed at previously intractable — or, "undruggable" — targets. The massive upticks in publications and advancement to clinic of degrader-based therapies are solid indications of this class's potential.
The Power of TPD and DELs
X-Chem's DNA-encoded library (DEL) is the perfect technology for TPD because it takes advantage of this cellular waste disposal system and its dependency on binding affinity, allowing drug developers to target proteins that would be difficult — or impossible — to directly inhibit. DEL-derived ligands for POIs can be easily converted into a heterobifunctional molecule with desired E3 ligand of choice. However, we can also discover novel E3 ligase binders to complement and power your TPD platform. Whether X-Chem is screening for a novel E3 ligand or POI binder, an exact location and vector for the linker position is known through the linker to DNA, which streamlines and saves time in the discovery of degraders. This article on discovering bispecific degraders of ERα further outlines X-Chem's strategy and success in the TPD space.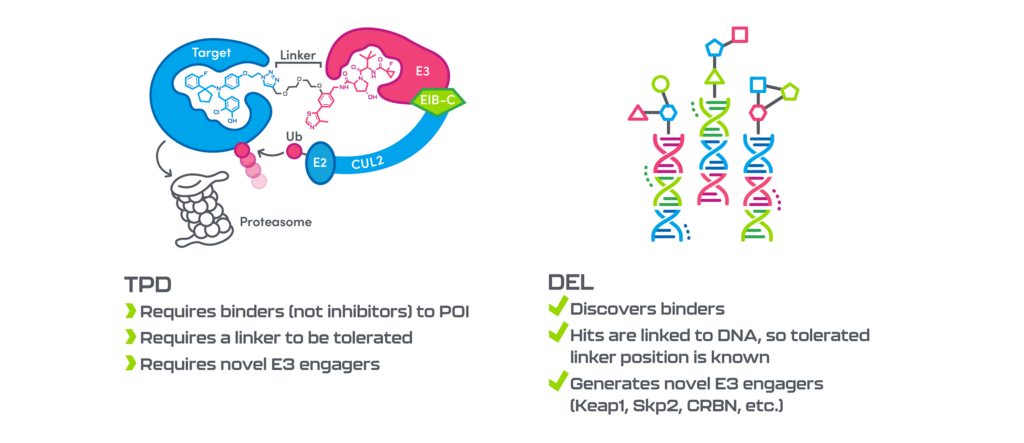 Hitting the Mark on
Molecular Glue Discovery
Molecular glues (MG) are another class of proximity-dependent molecules that are proving to be a powerful and effective new modality in drug discovery. MGs act as mediators between target proteins, inducing the formation of ternary complexes that can lead to a number of functional outcomes. X-Chem scientists have demonstrated MG selection and confirmed ternary binding by biophysical methods — despite the established elusiveness of glues.
X-Chem's industry-leading DEL platform and medicinal chemistry expertise are the keys to an expedited drug discovery process and the development of your highly specific TPD-based therapeutic candidate. No matter your modality of interest, we have a solution that suits your needs.